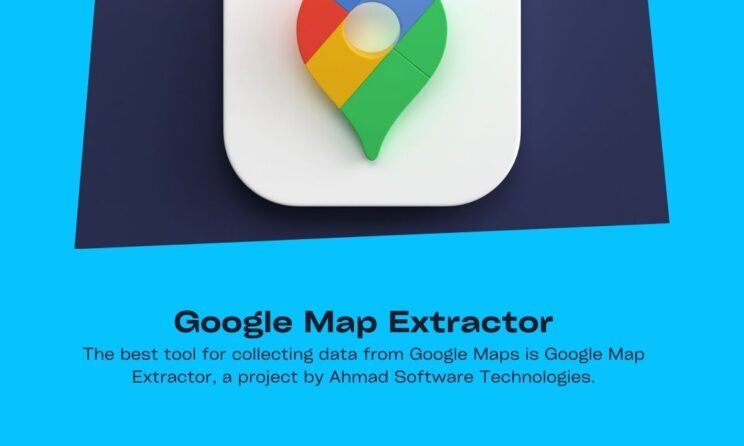 "Googling something" is almost synonymous to finding customer or business information. Google has been the leading search engine among others and Google Maps is the leading navigation and business platform, which is pre-installed on Android phones and is the top maps application downloaded in the US and all over the world. You may think that  Maps is not relevant to your business, because most use it for ridesharing or booking. However, there are more than 12 million businesses listed on Google Maps with contact details. In this article, we will explain how  Maps data is helpful to find new customers, conduct marketing campaigns, or empower new business models. We will also compare the two ways to scrape Google Maps data in an automated and manual way.
What is a Google Maps Business Profile?
Let's first explain how businesses, shops, and services are displayed on Google Maps. Google allows businesses to register themselves as a business, provide complete contact details, get customer reviews, and be discovered by new customers.
According to Google, there has been a 500% increase in searches that include "near me" on Google for a wide variety of services between 2020-2022. For a B2C company, Google Map can be a great platform to get new customers. For a B2B company and marketers, this makes Google Map an important platform to look for businesses in a targeted location.
How can you use Google Maps data for your business?
Finding New Customers:
If you are a B2-B company looking for businesses in a specific area for a specific industry, Google Map can be a great asset for potential customers to reach out to. With this complete information about a business, such as their email address, phone number, ratings, reviews, and website, you can have a readily available template to reach out to businesses. For example, let's say you are looking for shops that are selling books online that may be interested in your books and you would like to know whether there are any branches of shops in an area that you can target. The first thing you will do is probably a Google Map search. Now, will you check each business listing for a given shop and call them one by one? What if you need to do it for all states in the US, UK, or India? Google Maps Scraper will enable you to get all the business information you need into a spreadsheet which you can turn into a customer database, and update as frequently as you want.
Connecting Customers To The Business:
People don't use Google Maps for directions only but many of them use it to find a product, service, and business. If you are registering your business on Google Maps and doing SEO properly. Your business will appear in the top 3 search results of Google Maps. When someone searches for a keyword related to your business, If your business will appear in the top 3 search results then the user can approach you easily by your email address, phone number, and directions. In this way, you can attract many customers to your business daily with a great marketing strategy and team.
Helpful In B2B Marketing Campaigns:
Data scraped from Google Maps can be used for many marketing strategies like email marketing, telemarketing, SMS marketing, etc. By using a Google Map Extractor, you can extract emails, phone numbers, ratings, reviews, working hours, and much more from Google Maps listings. You can use this data in your marketing campaigns to approach businesses to sell your products or services.
Helpful For Freelancers
Today, freelancing and Google Map Scraping is in demand. Most people want to scrape data from Google Map but they don't have time or don't know how to scrape Google Map. Therefore, they hire a freelancer for extracting data from Google Map. Most freelancers use Google Maps Scraping tools to extract data from Google Map to Excel. The main reason to use a Google Map Lead Extractor is to save time. They save time and complete their projects on time by using Google Map Lead Generation tools.
How Can You Collect Data From Google Maps Manually And Automatically?
There are two ways to scrape data from Google Map to Excel or CSV files.
Manual:
In this way, you have done all things manually yourself. You have to search for a business for a targeted location and industry from Google Maps. Then, Google Map shows thousands of results for your keywords. After that, you have to visit each result manually, copy-paste every data from a business listing, and then save this data to an Excel, CSV, or Text file manually. This is a good way for Google Map Scraping, but it takes time and is not helpful in your freelancing career, marketing campaigns, and many other tasks. Because time is more important than other things and if you want to save your time then I don't recommend you do it this way.
Automatic:
It is the fastest, easiest, and most reliable way to collect data from Google Maps. Google Map Contact Extractor can also be used for pulling business data with a certain keyword or in a certain area. You don't need to do any manual tasks if you are using this Google Map Data Extractor. You have to put your keywords in the search bar of the software and have to select the search results for data scraping. Google Maps Listings Scraper will automatically extract, copy-paste, and export data to your computer in a CSV, Excel, and a Text file for use. If you are using Google Map for lead generation and the search results or information on Google Map is more important for you, then you may consider this Google Map Extractor as a more sustainable solution to collect Google Map data.
How Many Results Can I Extract From Google Maps In A Day?
The Google Maps Crawler can export all the results displayed in Google Map search results. Keep in mind that the more the Google Map results, the longer it takes. A rough estimate would be 800 to 1000 search results in a day.
Can I scrape email addresses from Google Map?
Yes, you can extract and export email addresses from a business listing if business owners have left this data public. Moreover, the Google Map Email Extractor visits the website for the email and phone number given in the business listings.
Is Data Scraping From Google Maps Legal?
Scraping data that is claimed to be copyrighted is illegal
Scraping private data that requires logging details such as username and password is illegal
You must also check the Google Map Terms of Use when scraping data from Google Map. Google Map data is almost publicly available for everyone.
The contact information on Google Map is publicly available because businesses on Google Map want to engage with customers. So, you can scrape this information legally by using this Business scraping tool.
Conclusion:
Google Map Extractor enables companies, marketers, and freelancers to collect Google Map data automatically. This Google Map Scraper makes Google Map Scraping possible for any country, city, and state.